JBC Food corporation is a family owned snack food company established on the year 1988. The company is mainly engaged in the production of snacks like nuts, mixed nuts, watermelon seeds, squash seeds and confectionary products for the domestic market. Around March of 2002, the company started to export some of its products to other countries particularly the USA, Canada and Saudi Arabia. The foremost brands the company produces include Dingdong mixed nuts, Happy nuts, Chikito cracker nuts, Sinbad, Captain Sid, Dragon Sid, Barnuts, Jackpot and Milkee Polvoron. At present, the company is still investing and looking into new machines that would not only make the company more efficient but also give a better quality product for the consumers at the least possible cost. This is in keeping up with the Rebisco Group of Companies' Vision-Mission of which JBC Food Corporation is a part of. We envision our group to be the dominant snack food company in the Philippines by providing innovative and best value products within reach of consumers.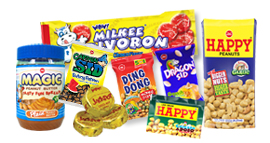 JBC Food Corporation is presently a member of Snack Food Association (SFA) , an international snack food organization that includes such companies as Frito Lay and other big US snack food companies. Aside from this, the company is also a member of Institute of Food Technologist and is doing research development to come up with new and exciting products for the local market, so watch out for our exciting new products coming out soon.

OUR VISION


To be the dominant snack food company in the Philippines by providing innovative and best-value products within reach of consumers.




OUR MISSION

Continuously innovate and manage a portfolio of products that are attuned to the dynamic needs and wants of consumers.
Ensure extensive availability of products in all channels of distribution.
Progressively develop our people for company and individual growth.
Improve systems and processes for an organized and productive work environment.
Ensure that the organizational structure is aligned to the growing needs of the company.
Continuously maintain and upgrade facilities that will increase the level of efficiency and productivity.

OUR VALUES

Excellence - going beyond expectation
Innovation - setting the trend or making it better
Customer Satisfaction - achieving customer's delight
Commitment - unwavering pride and dedication to what the organization stands for
Teamwork - working together harmoniuously towards a common goal





OUR PARTNER COMPANIES

Republic Biscuit Corporation

Founded in 1953 as England Biscuit Factory. Acquired a new image and name "Republic Biscuit Corporation" or "Rebisco" in 1972. Positioned itself as a major player in the snack food industry, with well advertised and widely available brands. Its products include, Rebisco Sandwich, Chokies, Hansel, Marie, King Flakes, Bravo, Buddy.

Visit their website at www.rebisco.com.ph




Pinnacle Food Corp.

The company was incorporated on May 14, 1999 to manufacture high quality yet affordable snack food. Its products include Samurai, Tam Tam, Comets.




Multirich Food Corp.

Created in 1999 with the launch of its flagship brand, Superstix. Other brands include Superstix, Krimstix, Jumpee Snaxstix




Suncrest Food Corp.

Opened in 1995 producing its very first product Cupp Keyk. Other brands are Mini Keyk, Cake Jam, Fudgee Barr, Dough Boy Crosinni, Cinna Rolls.




SPI Corporation

Stork Philippines Inc. was a licensee of Storck Germany Inc. in September 25, 1969. In October 2003, the Rebisco Group of Food Companies acquired Storck Philippines Inc. Products include, Storck, Lipps, Dreams, Durchbeisser, Baby Bazooka Joe, and Judge




Omnipack Industrial Corp.

Manufactures flexible packaging plastic products, mainly for its sister companies.




OUR AFFILIATIONS


Snack Food Association
Founded in 1937, SFA represents over 800 companies worldwide. SFA business membership includes, but is not limited to, manufacturers of potato chips, tortilla chips, cereal snacks, pretzels, popcorn, cheese snacks, snack crackers, meat snacks, pork rinds, snack nuts, party mix, corn snacks, pellet snacks, fruit snacks, snack bars, granola, snack cakes, cookies and various other snacks.

Visit www.sfa.org for more information.




Dry Pea & Lentil Council
The USA Dry Pea & Lentil Council represents over 5,000 growers, processors, and exporters of premium commodities. The organization was founded in 1965 to support research, guarantee quality, and increase awareness of U.S. dry peas, lentils, and chickpeas worldwide. Our target audience is importers, manufacturers, food service, and consumers.

Visit www.pea-lentil.com for more information.