JBC Food Corporation is a family owned snack food company established in the year 1988. The company is mainly engaged in the production of snacks like peanuts, mixed snacks, cracker nuts, squash seeds, melon seeds, peas, beans, and confectionery products for the domestic and export market. The foremost brands the company produces include Happy, Dingdong, Hi-Ho, Chikito, Dragon Sid, Captain Sid, Barnuts, and Milkee. At present, the company continues to expand its business to offer a wider array of quality snacks products to its growing market both here and abroad.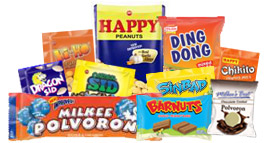 JBC Food Corporation is presently a member of Snack Food Association (SFA) , an international snack food organization that includes such companies as Frito Lay and other big US snack food companies. Aside from this, the company is also a member of Institute of Food Technologist and is doing research development to come up with new and exciting products for the local market, so watch out for our exciting new products coming out soon.

OUR VISION



To be the dominant Filipino food company offering innovative and best value products created by people committed to making deliciously delightful moments possible for everyone, everywhere.




OUR MISSION

To achieve this, we shall:


Explore and enter new markets to build and intensify our business.
Innovate our products and services to meet the dynamic need of consumers.
Ensure availability of our products in all channels of distribution.
Develop our capability in people, systems and productive work environment.
Constantly seek improvement and upgrade abilities to achieve international standards of quality and cost-effectiveness.
Provide support in the communities where we operated to contribute and be part of Nation Building.

OUR CORE VALUES

Excellence
Go for the Best!
Innovation
Stay Ahead. Think Differently.
Customer Satisfaction
Reach. Connect. Delight.
Commitment
Work with Passion and Pride.
Teamwork
Win Together!





OUR PARTNER COMPANIES

Republic Biscuit Corporation

In 1972, it acquired a new image and name, becoming the Republic Biscuit Corporation (Rebisco) that we know today. With its growing extensive distribution network, market research, and technology and product development, Rebisco soon positioned itself as one of the major players in the snack food industry.From a basic portfolio of biscuits such as the famous and pioneering Rebisco Cracker Sandwiches that generations of Filipinos have loved, Rebisco now carries a wide variety of snack food ranging from nuts and seeds, cakes, wafers, breads, chips and curls, candies and gums, and chocolates.This growth transpired though the creation of new partners over time such as JBC Food Corp. (1989), Suncrest Foods Inc. (1995),Multirich Food Corp. and Pinnacle Foods Inc. (both in 1999), and SPI Corp.(2003).Until now, Rebisco is still true to its claim of providing "Best-Value Products" by maintaining quality at par with the best in the country. All products that leave the Rebisco plant, put under strict quality control, are now reaching delighted consumers in many corners of the country.

Visit their website at www.rebisco.com.ph




Suncrest Food Corp.

In 1995, the strong potential of cake snacks in the local market inspired the birth of Suncrest Foods Incorporated (SFI). It currently carries Fudgee Barr, Cupp Keyk, and Topps, to name a few. To further expand the market, SFI has introduced packaged breads such as Crossini. More so, it has also produced its line of baked products like the Mrs. Goodman Chunkee Cookies, a chewy premium baked cookie offered at a very affordable price.

Starting 2016, manufacture of quality chips and curls snacks will now be under SFI (from Pinnacle Foods Inc or PFI). The company is committed to provide the best snacks that are fun and filling at the same time. Current line-up includes Funky, Criss Cross, Potato Plus, Pier 28, Kruffs, and Pop-O, to name a few.




SPI Corporation

Formerly known as Storck Products Inc., the company was established in 1968 as a licensee of Storck Germany Incorporated with a production plant in Pasig City. Among its initial products are Storck Eucalyptus Menthol, Storck Durchbeisser and Riesen Schoko. The company concentrated in establishing Storck Eucalyptus Menthol as its flagship brand. Its product line grew with the introduction of Lipps with Strawberry as its initial flavor. In 2003, Rebisco acquired SPI along with all the brands under it - Storck, Lipps, and Judge, and is known as SPI Corporation.




Multirich Food Corp.

In 1999, the company launched its flagship brand, Superstix, a creamy-crunchy creation of chocolate wafer sticks. In the following year, the company soon ventured into cream paste snacks with Krimstix. The company's portfolio was further expanded in 2001 when MFC was formally launched with the opening of its plant in Bulacan. It has since ventured into jelly snacks with the introduction of Mr. Jiggles in the market. Today, the company is proud of its biggest hit - Choco Mucho, a crunchy wafer topped with rich caramel, rice crispies and enrobed in milk chocolate.




OUR AFFILIATIONS


Snack Food Association
Founded in 1937, SFA represents over 800 companies worldwide. SFA business membership includes, but is not limited to, manufacturers of potato chips, tortilla chips, cereal snacks, pretzels, popcorn, cheese snacks, snack crackers, meat snacks, pork rinds, snack nuts, party mix, corn snacks, pellet snacks, fruit snacks, snack bars, granola, snack cakes, cookies and various other snacks.

Visit www.sfa.org for more information.




Dry Pea & Lentil Council
The USA Dry Pea & Lentil Council represents over 5,000 growers, processors, and exporters of premium commodities. The organization was founded in 1965 to support research, guarantee quality, and increase awareness of U.S. dry peas, lentils, and chickpeas worldwide. Our target audience is importers, manufacturers, food service, and consumers.

Visit www.pea-lentil.com for more information.